Bathroom Installation
Bathroom renovation service throughout Bolton, Bury and Burnley
Our expert bathroom installation is designed to impress. Our installation covers all aspects of a new bathroom installation including design, planning, tiling, plumbing, electrics and decorating resulting in beautifully finished bathrooms. To get a quote please give us a call on 07791 802791 or select the button below to get in touch via our contact form.
Bathroom Installation Services
With a variety of styles and types of bathroom products and accessories to choose from, our professional bathroom fitters are on hand to help you get the bathroom you have always wanted. Browse through our gallery page for our previous bathroom installation projects.
Benefits of getting a new bathroom
A new bathroom has plenty of advantages, these include:
- Increases the value of your property if you are looking to sell your home
- Improves the quality of your bathroom
- Increases storage space
- Create a better bathroom that meets your needs and requirements
- Improve the functionality of your bathroom appliances
If you would like to know more about how we can help or would simply like to know more about the benefits that come along with a brand new bathroom, get in touch with our fitters by sending us a quick message using our contact form!
(MORE: Ultimate Guide To Bathroom Refurbishments)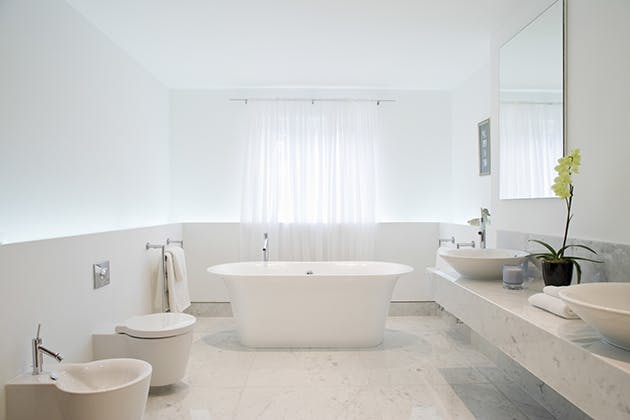 Signs that indicate you need to get a new bathroom installed
A bathroom is known to be the most used room in the home and over time it can show signs of wear and tear. Some of the signs that you can look out for are:
- There is a lack of storage space
- Your existing bathroom needs modernising
- The paint is peeling off the walls
- There are cracks in the tiles
If you have noticed these or other signs we have not mentioned, make sure to speak to an expert bathroom fitter to discuss your options so you do not experience any further issues that could end up costing you a lot of money.
How to find the right bathroom fitter
It can be tricky to find a qualified bathroom fitter. We've compiled a list of tips to assist you in finding the right bathroom fitter.

Look for customer feedback.
Friends and family recommendations are a terrific place to start but we also recommend looking for customer reviews on the company's website.
Photographs of their work
Is there any visual representation of their work on their website? If so, then that's fantastic! This gives you the opportunity to see if the work they do is what you're looking for.

Request multiple quotes
Getting many estimates on a new bathroom installation service is an excellent way to see what the going rate is.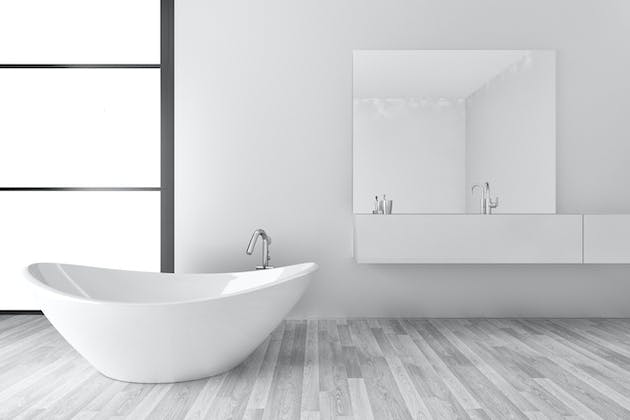 Why choose JS Gas & Oil?
JS Gas & Oil Ltd are passionate about creating stunning bathrooms in homes throughout Bolton, Bury and Burnley. As experienced bathroom fitters and plumbers, we have extensive experience building bathrooms that our customers love. No matter the design approach that you choose, we can cater to your individual approach to the style of your new bathroom. Here are just a few of the reasons to opt for our high-quality bathroom renovation service:
Outstanding customer service
We have a focus on delivering high-quality customer service and making sure that our customers are happy with our service at all times. As members of Checkatrade, we are vetted and checked for the quality of service that we provide. Along with this, our clients are able to leave honest reviews on our Checkatrade profile or head over to our reviews page to read through them.
We create high-quality bathroom renovations based on your specification
By collaborating with our clients from start to finish, we create bathrooms that shine and meet our customer's vision for their new bathroom. Our expert bathroom fitters have plenty of experience in installing new bathrooms across Bolton, Bury and Burnley, you can browse through our projects by heading over to our gallery page.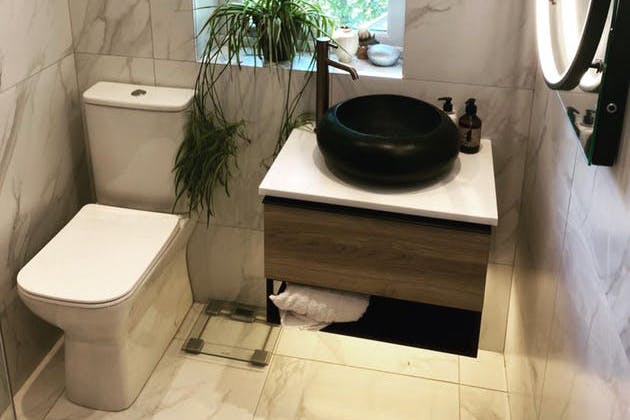 We offer competitive pricing on our bathroom renovations
As a local service, we strive to keep our prices competitive for our customers and ensure that we offer fair prices to our customers.
We use high-quality materials for our bathrooms
We only use high-quality materials that are made to last and create bathrooms that stay looking fresh and new for longer. Our sourcing of high-quality materials gives you peace of mind that your bathroom has been built using the best materials for the job.
What we can also help with:
- Help select your new bathroom
- Put your new radiators in place
- Carefully install your new sink, toilet, shower/bathtub
- Tiling your walls and adding the flooring
- Adding the final touches

A large job like renovating a bathroom can be challenging, which is why we make sure to be there for you every step of the way. From beginning to end, our goal is to make the process as simple as possible for you. We also make certain that all projects are finished on time and at the highest possible quality.

So if we sound like the company you would like to choose to help with your new bathroom, make sure to get in touch with us today by simply viewing our contact details down below.
Get started with your bathroom renovation
JS Gas & Oil Ltd completed bathroom installation throughout Bolton, Bury and Burnley. If you would like to book our bathroom renovation service, call us today on 07791 802791 or get in touch via our website's contact form and we will get back to you as soon as we can.
We hope you choose JS Gas & Oil Ltd for any bathroom renovation services that you may require.