Smart Thermostat Installations
With our professional smart heating control installations, you can upgrade your home's heating system. Our expert team can help you choose and install the right heating control system. We are available throughout Bolton, Bury and Burley. Call us today on 07791 802791 and we'll be happy to help.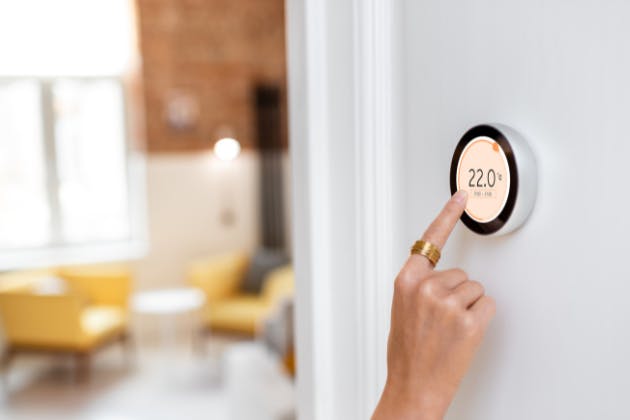 Smart Thermostat Installation Services
Smart thermostats let homeowners remotely control their heating and cooling systems. Instead of manual changes, smart thermostats can be managed by smartphones, tablets, or voice-activated virtual assistants. At Js Gas & Oil Ltd, our heating engineers are fully trained to install a range of thermostats from various manufacturers.
Nest Smart Thermostat
Nest thermostat optimises room temperature for comfort and energy savings. Its precise sensors monitor humidity, occupancy, and sunshine to perfectly adapt temperature per user preferences. This aligns luxury with responsibility by conserving money and the environment.

Hive Smart Thermostats
Home heating management is transformed with Hive. It creates a seamless integration in your home by smoothly connecting its sophisticated technologies with your heating system. Hive optimises your home's temperature by monitoring and communicating with the boiler, delivering unmatched comfort and innovative technology continuing to shape your living spaces.

Honeywell Smart Radiator Valves
Thermostatic Radiator Valves (TRVs) measure air temperature and regulate radiator water flow without controlling the boiler. To make it work, TRVs need to be adjusted to your desired room temperature and each room may require various TRV settings. There are various factors which impact how the room heats up. For example, the radiator size and boiler setting determine how soon the room heats up.
A lower TRV setting lowers room temperature and saves electricity. When the home is warm, TRVs cannot turn off the boiler. A room thermostat is needed for that. The radiator in the room with the thermostat should not have a TRV, but if it does, keep it on maximum and adjust the room thermostat as instructed.

If you need more help with choosing the right smart thermostat for you and your home, we are here to help.
Speak to our heating engineers
We offer smart thermostat installation services throughout Bolton, Bury and Burnley. Get in touch with us by calling us on 07791 802791.