DAB Esybox and Esytank
Offering DAB Esybox adn Esytank installation services in Bolton, Bury and Burnley.
For a fully packaged solution to increase your water storage capacity, look no further than an DAB Esybox and Esytank. Call our team today on 07791 802791.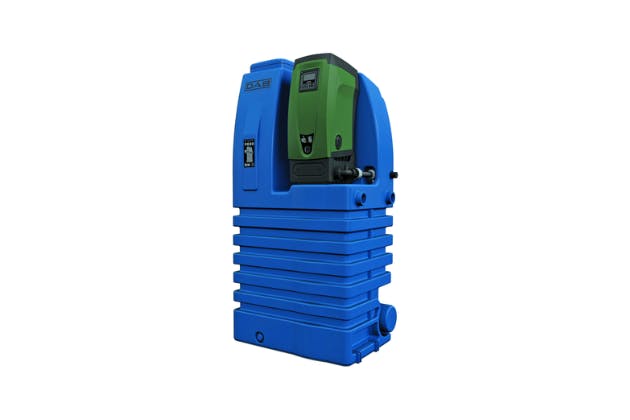 Esybox Installation
The ESYBOX is DAB's new integrated water pressure booster for homes. ESYBOX's self-priming multistage pump, electronics for control and management, pressure and flow sensors, high-resolution LCD orientable display, and 2-litre expansion vessel require no extra components to install.

Benefits of Esybox
Efficient
Inverter technology allows e.sybox to draw energy according to water needs, reducing waste and saving money.
Versatile
It can be mounted vertically or horizontally in a ventilated room or recess.
Silent
The whisper-silent technology reduces noise and vibrations to 45 dB in typical use. Thanks to the water-cooled motor, sound-deadening ABS casings, vibration-damping feet, and inverter electronics that adjust motor revolutions according to set pressure (set point) and flow.
Compact
It saves 30% space over typical systems.
Easy to set up and use
The technical compartment enables access to the expansion, tank, rotor shaft, and second filling cap, making maintenance straightforward. This compartment also contains the user guide and the instrument for quick cartridge extraction of the non-return valve, as well as all the maintenance and installation tools.
Wireless
has a wireless gadget for pressure booster sets and a DAB device connection.
Esytank Installation
The ESYTANK is a drinking water storage tank designed for easy interaction with the ESYBOX electronic water booster system. The ESYBOX with ESYTANK break tank and booster pump kit is excellent for domestic and light business use. The brilliant ESYTANK modular system packages pump and tank. It also enables you add tanks to three sides to improve water storage.
Benefits of Esytank
- ESYTANK tanks can hold 480 Litres.
- Integrated ESYDOCK for fast pump connection
- Modular installation for multiple choices
- Compact in size
Ready to discuss your options?
If you would like to get a free quote on our Esybox and Esytank installation services, call our expert team on 07791 802791 and we'll be happy to help.